The New 2017 Toyota 86 is creating a Buzz on the Roads of Atlanta, Georgia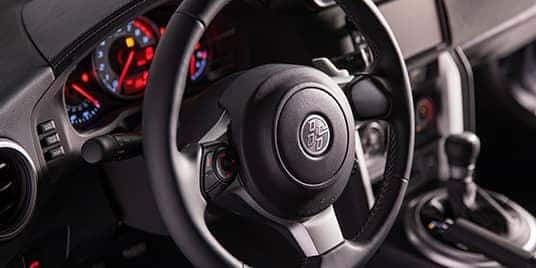 Suede-like Granlux trim material shows off the sophisticated side of the new 2017 86 models at Nalley Toyota Union City. All-new Granlux trim accents cover key touch-points on the door panels, upper-seat bolsters and dash of the 2017 Toyota 86, creating a stylish and unique driving environment that our Atlanta, Georgia customers simply can't seem to get enough of. Adding an extra bit of style is an embossed "86" logo above the passenger-side glove box, reminding owners of Toyota's commitment to excellence each and every time they get behind the wheel.
2017 Toyota 86 models features an ergonomic, leather-wrapped steering wheel that feels great in your hands and, thanks to the smaller diameter and quick-ratio steering, feels amazing when negotiating corners on the busy streets of Atlanta, Georgia. And with new integrated audio controls you can now access your music easier than ever before, helping you can stay in complete control of it all. Deeply bolstered front seats bring enhanced comfort when you embark upon longer drives, and they hold you steadily in place when the roads of Atlanta, Georgia start to get a little twisty. The Granlux trim on the upper side bolsters provides both extra grip and an added sense of luxury, while silver-like accent stitching works to further enhance the premium feel of the new 2017 Toyota 86.
Form Inspired by Function
A long hood and short rear deck gives the all-new 86 models at Nalley Toyota Union City a classic sports car profile. 2017 Toyota 86 models bring this design to the modern era, with each surface having been meticulously sculpted to help give these innovative rides a wind-cheating drag coefficient of just .27 Cd. And best of all, this aggressive exterior styling helps to optimize overall performance as well. The large chin spoiler and integrated canards help keep the front end of the all-new 86 planted firmly to the Atlanta roads for sharpened turn-in and response. The restyled rear diffuser improves airflow and reduces turbulent air exiting from under the car, adding extra function to its intimidating and street-ready attitude. New vortex generators on the fenders of the 2017 Toyota 86 help to control turbulent airflow, enhancing the stability of innovative new performance models. They also work to keep the front end planted firmly to the ground, helping you stay firmly connected to the Georgia streets and highways.
Updated lighting in both the front and rear accentuates the cutting-edge style of the new 86 models at Nalley Toyota Union City. Up front, the headlights feature new, integrated LED Daytime Running Lights (DRL) to help ensure this sports car can't be ignored on the busy streets of Atlanta, Georgia. In the rear, LED lighting helps take the tail lights of the all-new 86 to an entirely new level of cool. Available fog lights seamlessly integrate into the refreshed front bumper of the new 2017 Toyota 86. Designed exclusively for these models, these fog lights fit perfectly around the aerodynamic canards, ensuring a perfect and tight fit. Not only do these help provide more light when the weather in Atlanta, Georgia gets foul, but they also elevate the sporty look of the 2017 Toyota 86 to a whole new level.

Designed to Thrill
At the heart of every new 2017 86 model at Nalley Toyota Union City is a potent 2.0-liter flat-four engine. With its horizontally opposed pistons and compact packaging, these innovative engines sit low in the chassis in order to provide optimal balance and impressive performance. In manual transmission-equipped cars, these engines have been revised to both reduce friction and pumping loss, helping to provide an optimized power curve that our Atlanta customers are both impressed and inspired by. These new 2017 performance machines have got some muscle as well, with manual transmission models getting 205 horsepower and 156 lb.-ft. of torque, along with a new aluminum red intake manifold. In the automatic-equipped 2017 Toyota 86, its boxer engine pumps out 200 horsepower and 151 lb.-ft. of torque.
Toyota 86 comes with a close-ratio 6-speed transmission that offers both breathtaking acceleration and impressive fuel economy. The sequential automatic transmission features a manual shift mode that allows owners on Atlanta, Georgia to select the gear they want via the gear-select lever or steering wheel-mounted paddle shifters. For those who prefer three pedals, the manual transmission of the all-new 86 offers short and precise throws that create a driving experience that is absolutely like no other.
Experience Toyota 86
The new 2017 86 is available today at Nalley Toyota Union City, and these innovative and all-new models offer everything our customers in Atlanta, Georgia are looking for in their next performance vehicle. Impeccably style both inside and out, and offering impressive efficiency as well, the new 2017 Toyota 86 is the complete modern-day performance package. Stop in for an up close look at everything these all-new models have to offer, and find the 2017 Toyota 86 that best fits your own unique Atlanta, Georgia driving style today.