New 2017 Tundra Models Offer Atlanta, GA Drivers Ultimate Power and Control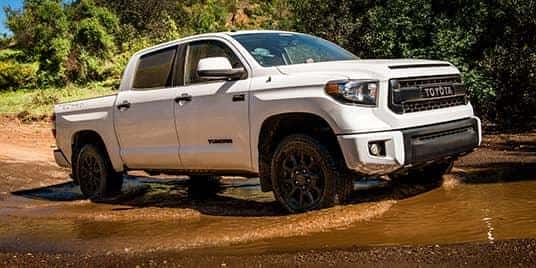 Take your everyday Atlanta, Georgia drive to a completely new level in a new 2017 Tundra from Nalley Toyota Union City. Tundra's 4.6L V8 engine is packed with tech, delivering 310 horsepower and 327 lb.-ft. of torque via a 6-speed automatic transmission. It also benefits from Double Overhead Cams, a 32-valve head design and Dual Independent Variable Valve Timing with intelligence (Dual Independent VVT-i), so all the power you'll need in Atlanta is ready when you need it. The powerful i-Force 5.7L V8 engine of the 2017 Toyota Tundra produces 381 horsepower and 401 lb.-ft. of torque, plus a standard Tow Package with added engine and transmission oil coolers that adds up to heavy-duty towing capability [1]. Add in Double Overhead Cams (DOHC), a 32-valve head design and Dual Independent Variable Valve Timing with intelligence (Dual Independent VVT-i), and you get an i-FORCE drivetrain that can tow just about anything, including a space shuttle [2].
Tundra's innovative features certainly don't stop there though, as these all-new truck models at Nalley Toyota Union City are redefining what conventional wisdom says a modern day truck should be. The added traction provided by 4WD is great, but with the innovative A-TRAC system of the 2017 Toyota Tundra it's even better. A-TRAC is a 4WD traction control system that uses the 4-channel ABS system to control power flow to the front and rear wheels, all without cutting throttle input, to help create traction no matter where in Atlanta, Georgia you happen to be. Auto LSD (Automatic Limited-Slip Differential) [3] comes standard on all new Tundra's, and it works like a traditional limited-slip differential, but with an added high-tech twist. Instead of controlling slip mechanically, Auto LSD applies brakes individually to the wheels with no traction. And unlike Traction Control, it does this without cutting engine power. This helps give drivers in Atlanta, Georgia added control while distributing power where it will be most effective. Best of all, because the system utilizes the brake system, there are no extra components that will end up adding to your overall ownership costs. When it comes to modern day truck, nothing provides the power and control quite like the 2017 Toyota Tundra.
Taking Truck Utility up a Notch
2017 Tundra models offer new and innovative features designed to provide Atlanta owners with additional utility and versatility. An available deck rail system incorporates four adjustable tie-down cleats (each rated at 220 lbs.) that help to keep your heavier loads safely in place. The easy lower and lift tailgate of the all-new Toyota Tundra can be opened and closed with just two fingers, plus it's easily removed and can also be locked to secure cargo concealed under a tonneau cover or shell. Our Tundra customers that opt for available front bucket seats get access to a center console area that includes a covered storage compartment, as well as a 12V auxiliary power outlet. With seats that fold up, Tundra makes it easier than ever for you to get in or out of the vehicle, or load and unload all of your gear. Truck owners in Atlanta, Georgia need a little versatility from their everyday vehicle, and the all-new 2017 Tundra has got plenty to go around.

TRD Technology Unleashed
New Tundra TRD Pro models at Nalley Toyota Union City pack a serious punch, with a tuned dual exhaust that gives the 5.7-liter V8 of these all-new models a ferocious and aggressive bark. A TRD-tuned suspension, along with tuned front springs and remote-reservoir TRD Pro Bilstein® front and rear shocks, can help you tame even the toughest Atlanta, Georgia trails. Add in headlights with black sport bezels, and a TRD Pro-stamped truck bed and a 1/4-inch aluminum skid plate, and these all-new 2017 Toyota Tundra models are ready to intimidate and dominate whatever happens to enter your path.
2017 Toyota Tundra TRD Pro models command respect wherever it Atlanta they go with a prominent bold grille, stylish black badging and their unique TRD Pro bed stamp. Their exclusive 18-inch 5-spoke black alloy TRD wheels come wrapped in beefy 32-inch tires that help these powerful and innovative trucks master more than just Georgia terrain. And with its massive 38-gallon fuel tank, the 2017 Tundra TRD Pro has got the fuel needed to get you way, way, way off-road.
Experience Tundra Style and Technology
Nalley Toyota Union City carries a premium selection of new 2017 Tundra models for our Atlanta, Georgia customers to explore and select from, and our experienced team of sales professionals is ready to help find the one that is perfect for you today. Able to perform in any environment, Toyota Tundra defines modern day truck versatility. Stop in for a firsthand look at everything these all-new models have to offer, and find the 2017 Tundra model that will help you get the job done today.